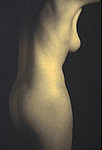 "My first introduction to breast cancer was in the early fall of 1983 when my mother, Carole, was diagnosed with the disease. Within days, she underwent a mastectomy and is a survivor to this day.
It was my intent when I created OrchisArts to make yearly contributions to grass-root breast cancer organizations that actually change the quality of women's lives, whether it be funding surgical procedures, a carpool ride for treatment or just having their hand held.
I have compiled facts about the disease that you may find helpful."
-Martin Cooper

BREAST CANCER: MYTHS AND FACTS

Some myths and facts as presented
by the National Alliance of Breast Cancer Organizations
Myth: Breast Cancer is preventable.
Fact: There is no certain way to prevent breast cancer, and the cause of the disease has not been determined. Early detection followed by prompt treatment offers the best chance to treat breast cancer successfully.
Myth: Only women with known "risk factors" get breast cancer.
Fact: Over 70 percent of women diagnosed with breast cancer have no identifiable "risk factors." All women are at risk, and risk increases with age. Identified breast cancer susceptibility genes are associate with fewer than ten percent of cases.
Myth: Mammograms aren't that helpful, and may be harmful.
Fact: The best way to detect breast cancer at its earliest, most treatable stage-before it can be felt-is through safe, annual screening mammograms.
Myth: Mammography doesn't work for younger women.
Fact: Dense breast tissue, very common in younger women, can make a mammogram more difficult to read, but studies have confirmed that expert mammography can find breast cancer in any woman. All women over 20 should have annual breast exams by a doctor or nurse, and should check their own breasts each month.
Myth: A lump in your breast means you have breast cancer.
Fact: About 80 percent of breast lumps are found to be benign (not cancer) when biopsies. Lumpy breasts are very common, especially in younger women, and can change with the menstrual cycle. But any unusual or new and persistent breast lump should be checked by a doctor or nurse.
Myth: Many biopsies turn out not to be cancer, so are unnecessary.
Fact: A biopsy (removal and examination of breast tissue under a microscope) is the only way to determine for certain that breast abnormality is not cancer. Biopsies are generally minor, outpatient procedures, and leave only a small scar.
Myth: If you have breast cancer, you will lose your breast.
Fact: The National Cancer Institute has called breast conserving treatment "preferable" to mastectomy (removing the breast) for most early stage breast cancer patients. The procedure includes a lumpectomy (removal of the lump) and an auxiliary dissection (removal of the underarm lymph nodes), followed by a course of radiation therapy.
Myth: Chemotherapy for breast cancer can be worse than the disease.
Fact: Chemotherapy and hormonal therapy (drugs to treat cancer) are increasingly recommended to improve survival. New, effective drugs that control chemotherapy's side effects help many women lead normal work and home lives during treatment.
Myth: If you have breast cancer, your doctor is in charge of your treatment.
Fact: You and your doctor, working together, should think through the decisions and issues involved in choosing treatment, including whether you should consider participating in a clinical trial. Each patient has a right to open communication, where all her questions are answered.
Myth: If you have breast cancer, you are really on your own.
Fact: Nearly two million breast cancer survivors are living in the U.S. today. NABCO offers medical information, input on treatment options and referrals to support and resources for women with breast cancer. Breast cancer survivors have organized resource centers in most cities and there is excellent access to information.

---
EASTERN EUROPEAN JEWISH WOMEN


Jewish women of Eastern European origin are more likely than the general population to be diagnosed with breast cancer. A l996 National Institutes of Health study found that 2.3% of the Jewish population has a least one of the three genetic mutations known to increase the risk of breast and ovarian cancer, compared to less than 1% of the non-Jewish population. Despite this increased predisposition, the Orthodox community is more withdrawn and closed, because the subject is often taboo. Orthodox Jewish Women can find support through ChaiLine,a national telephone support group designed to meet the needs of all Orthodox women living with breast cancer. Its hallmark is the anonymity of its participants. It is a conference call between six to eight Orthodox Jewish women with breast cancer, on long-term survivor and an Orthodox Jewish social worker.

Chailine 888.2.CHAI-LIFE